A Rich Cultural Heritage
Festivals Acadiens et Créoles Legacy Series is designed to honor those from whom we have inherited so much of what we celebrate today. It is focused not only on their past contributions, but also on the ongoing impact of their legacies, as contemporary musicians continue to use the past to create the future.
The series was inaugurated with a presentation on the legacy of Dewey Balfa, who not only inspired and influenced several generations of Cajun and Creole musicians, but who also helped to guide the organization of the first Tribute to Cajun Music concert in 1974, which eventually evolved into Festivals Acadiens et Créoles.
The second in the series will feature Clifton Chenier, who helped to define contemporary zydeco, turning traditional Creole jurés into full-blown full-band dance music. Clifton and his Red Hot Louisiana Band shattered social barriers and brought dancers and music lovers together, here in South Louisiana, across the country and out into the world. Their performance at the 1974 Tribute concert contributed mightily to the size of the crowd that evening.
Future presentations will focus on such Cajun and Creole icons as Joe and Cléoma Falcon, Amédé Ardoin, Dennis McGee, Iry Lejeune, Lawrence Walker, Belton Richard, Bois-Sec Ardoin, Canray Fontenot, and D.L. Menard, among many others.
In 1916, mandatory English language education was made available to the rest of Louisiana and was imposed in the South. French was trampled in a frontal assault on illiteracy. Several generations of Cajuns and Créoles were eventually convinced that speaking french was a sign of cultural illegitimacy. In the late 1940's the tide seemed to turn. Soldiers in France during World War II discovered that the language and culture they had been told to forget made them invaluable as interpreters and made surviving generally easier. After the war, returning GI's immersed themselves in their own culture. Dance halls throughout South Louisiana once again blared the familiar and comforting sounds of homemade music.
Stay up to date with the latest news and event times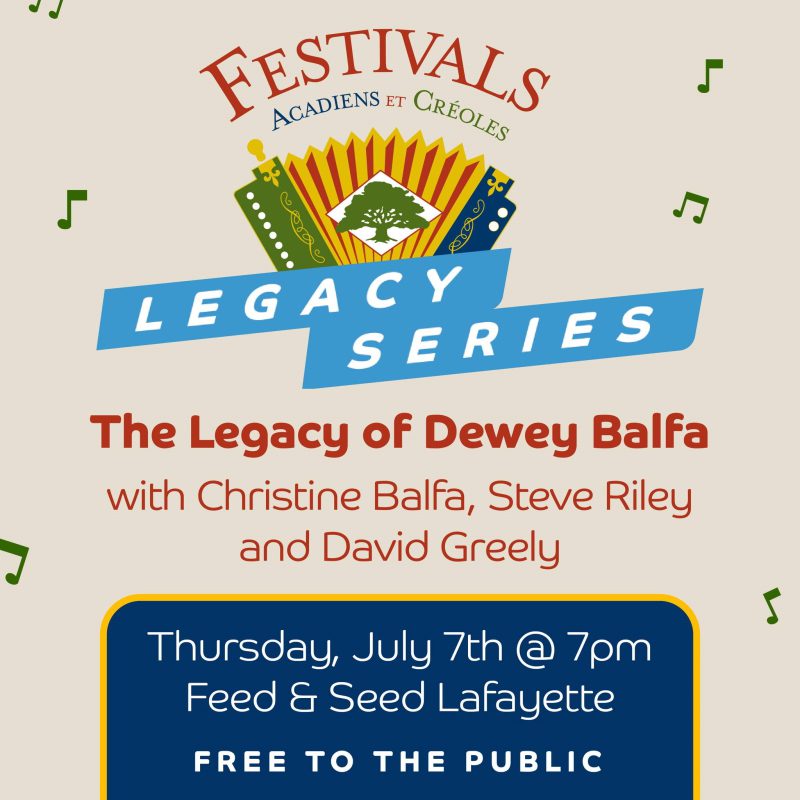 The Legacy of Dewey Balfa
We are so excited to kick-off our first Legacy Series event this week! This free monthly series will celebrate local legends who have made and continue to make an impact on the cultural community. The inaugural edition of "The Legacy Series" will be on the legacy of Dewey Balfa featuring Christine Balfa, Steve Riley and David Greely!
📅 Thursday, July 7th
⏰ 7-9pm, doors open at 6:30pm
📍Feed & Seed Lafayette
FREE to the Public!